End Your Fear Of Public Speaking Articles, tips, exercises, presentation coaching
So you want to get over your fear of public speaking? Good idea!
I don't know you (yet) but I do know something about you. If you're nervous about public speaking, you need to do 3 things:
Change how you think about it.
Change how you feel about it.
Do more of it.
This site will help you do all 3. (Before you go on, make sure you sign up for the newsletter - you'll get tons of tips and freebies.)
---
Emergency Help Available!!!
If you're in a panic right now, because you've got to do some speaking, and it's really worrying you, then check out our presentation coaching.
---
See if any of the bullet points below sound familiar to you:
No matter what you've tried to do, you just feel lousy at the thought of speaking in front of a group. You hate those feelings and you know deep down, that you avoid putting yourself in positions where you have to speak up.
You could be a business executive who gets too nervous before a presentation to the board, to your colleagues or even to your staff.
You could be a small business owner who dreads attending networking functions because you might have to get up and say a few words about your company.
You could be on a committee in an organization that you love ... but you don't feel confident about speaking up in meetings.
But now you've had enough and, most important ... you've decided to do something about it.
Great. Welcome to no-fear-public-speaking.com your new 'secret weapon'. The site is dedicated to just one thing ... helping you end your fear of public speaking for good.
Notice we're not talking about feeling lousy and speaking anyway. That's where most of the remedies begin and end. And it's not enough.
At no-fear-public-speaking.com we go way deeper. Quite simply we want you to come to love public speaking. If you don't, then keep reading and doing the activities on this site until you do!
---
Here's How You Use The Site To Conquer Your Fear Of Public Speaking
The cool thing is you only have to remember three things (Understand It, Love It and Practice It).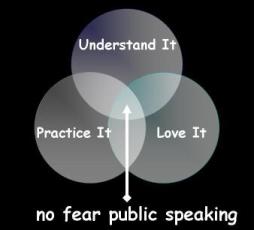 Understand It
When you truly understand speaking your thoughts simply won't allow you to be afraid of it. This site is packed with public speaking tips and articles aimed at building your understanding of public speaking. You'll also find a lot of content designed to help you understand the fear of public speaking itself.
Love It
Ever heard the statement "Love conquers fear"? It points to a great truth. How can you be afraid of something if you love it so much that you can't wait to do it? This site is designed to help you develop a passion and enthusiasm for speaking in public - no matter what the occasion.
Practice It
Public speaking is something you
do
- not just something you understand and love. Recognizing that there's no substitute for a ton of practice, we've created a way for you to do it online with
public speaking exercises.
You simply video yourself speaking, upload it to You Tube and then we'll go from there. You can then get some expert advice on your speaking, in private if you want.
Or we'll build a page around your videos, for free, on this site if you want some exposure for yourself or your business. That way you can get your talk reviewed by other members of our on-line community, and get some constructive audience feedback ... exactly what you need to help you improve.
Send in as many videos of yourself speaking as you like.
The point of 'practice it' isn't to become the best speaker in the world. It's to get you speaking more often, so your fear of public speaking becomes a thing of the past, and stops holding you back.
Be sure to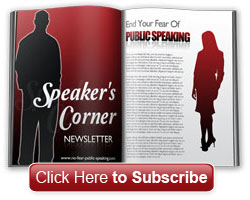 to the "Speaker's Corner" newsletter and learn new tips on public speaking and overcoming fear, every few weeks.

You'll also get some great free bonus information to help you be a better, more confident speaker from now on.
---
Table Of Contents
New ebook shows how to overcome fear and be confident every time you speak in public.
Presentation coaching might be the answer you're looking for. It's all about helping you speak in public with no fear.
Public speaking lessons.
Have a go at these public speaking exercises and use them to practice until no fear is left.
Stay up-to-date with all that's new at the no-fear-public-speaking.com website. Subscribe to the RSS feed at the top of the navigation bar over on the left.
This part of the site looks at fear itself. What it is. Where it comes from. Why it's so important to you. And most importantly <strong>how to overcome fear..</strong>.
Learn the most important aspect of your Fear Of Public Speaking
Public Speaking defined and explored in fascinating detail so you really understand it
How To Write A Speech that you will enjoy delivering without fear.
Persuasive speech is what all public speakers attempt to deliver.
How to be funny. Study the masters and learn how to bring more speech humor into your presentations.
If you've got a business presentation to do, this part of the site will be your <em>secret weapon</em>! You'll learn how to do the one and only important thing in this type of public speaking:
Human beings have been overcoming stage fright for a long time ... even the greatest performers in history. Here we learn some powerful, and somewhat surprising lessons from one famous man's story.
How to be an effective Sales Speaker from the front of a room.
Use these motivational quotes to inspire you when you're looking for speech topics. They may also help you overcome your public speaking fears.
speech examples
Motivating Quotes
Here are some funny speech topics you won't find on any other list.
Here's a list of ideas for speeches you can use right away.
Got no presentation ideas? You will have soon! It's amazing how this is one of the biggest fears around public speaking - not having presentation topic ideas.
Presentation Tips to end your fear of speaking forever
These tips on public speaking are designed to help you end your fear of speaking.
If you're worried about how to give a speech then this page just might change that for you.
Real world, practical Powerpoint Tips to help you use this great software without any fear of getting it wrong.
A revolutionary new use of public speaking video to help you overcome any remaining public speaking fears.
Contact Us to help you overcome your fear of public speaking
About Brian Clough
sitesell
Facing fear sounds great in theory but how do you really face the fear when it's got you?
Would you like to share your knowledge about fear of public speaking? Great, find out how you can submit your story or tip here.