Public Speaking Topics For Kids
What kids really use as topics for their talks!
Public speaking topics for kids are best left to the kids!
There's no way I'm going to try and come up with a list of them.
Why not? For a start I'm not a kid, and although I have an 11 year old daughter who loves public speaking, I'm just not qualified to suggest what a young person might be interested in talking about!
And I'd suggest you don't assign topics to kids either - you'll see why in a minute.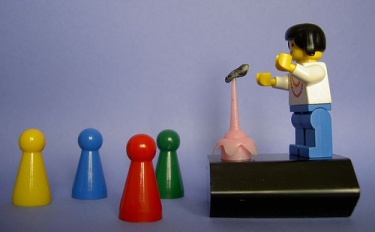 Just look at this list of the actual topics that were chosen by Year 5 and 6 kids (9 and 10 year olds) for an annual school speeches competition in 2007 and 2008.
Skin
Don't make me nervous
My life in a French School
Money can't buy you everything
First Class in Fiji
Leeches
New Zealand Rugby, sport and injury
Drugs
Are boys better than girls?
Car trips
Skateboarding
Celebrities
Thomas Edison
The amazing brain
Tigers
Dugongs
Snot
Teenagers
My big Brothers
Ancient Egypt
An Olympic dream
Sport is for everyone
My life is a ball
Gambling addiction
Poverty
Intermediates
My pet mice
Shoes
Television
The Tasmanian Devil
Find-out-a-thon
Words
Sharks
See what I mean?
Look at the diversity of subjects. Human biology, natural history, history, anthropology, psychology, social issues, human aspirations, relationships, recreation, economics, commerce, technology, language, personal experiences, philosophy, travel and so on.
Not all 'childish' topics are they? Some quite hard hitting issues in amongst these.
Doesn't sound like a list that young kids would take on does it?
Perhaps we'd be far better off helping them out with the 'how' of their talks, rather than worrying about finding public speaking topics for kids.
Questions To Ask Kids
If they ask for our help then I'd just ask them the same questions I'd ask any adult who's trying to come up with a speech topic, including:
What are you really interested in?
What are you excited about?
What do you find easy that others find a bit harder?
What do you feel strongly about?
Just make sure you teach the kids to pick something they can put some feeling into ... and then get out of the way and prepare to be amazed at what they come up with.
You may even see someone who can mentor you through your own fear of public speaking!


---
Return from Public Speaking Topics For Kids to How To Write A Speech

Return from Public Speaking Topics For Kids to the Home Page



---