Overcoming Public Speaking Anxiety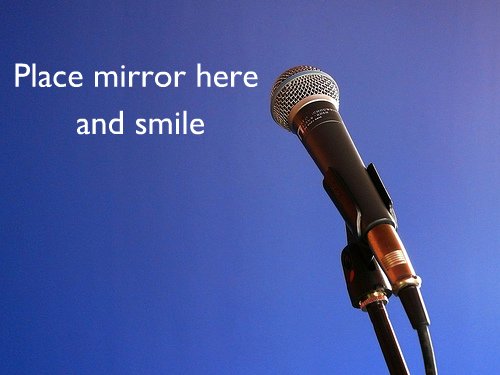 People just like you are overcoming public speaking anxiety every single day.
At least we know lots of people are trying hard to do that. How do we know that? Simply because Toastmasters International membership continues to grow year in year out.
I'm a Toastmasters member so I thought I'd give you my honest appraisal of the organisation, and how it might benefit you. I'm not getting paid to do this, but it's a worthwhile activity for thousands of people, and one I'm more than happy to write about.
In this article I'll answer 3 questions.
How Many People Do Toastmasters?
How Does It Work?
Is It Worth Joining?
The answers are not scientifically peer-reviewed for accuracy ... they are my own humble opinions and need to be taken as such:)
How Many People Do Toastmasters?
According to their website, quite a few - "nearly 250,000 members in more than 12,500 clubs in 106 countries". Most however are in the US (60%), and the rest are mainly in Canada and the Asia Pacific region. I suspect that the overwhelming majority are there because they're interested in overcoming public speaking anxiety.
How Does It Work?
First you go along to a meeting and check it out as a guest. If the Club's worth its salt they'll ask you to say something at the meeting, even if it's just hello and your name.
My advice is don't get too freaked out by what you see. You may see quite good speakers, you may see quite average ones, you might even see a terrible one (in your humble opinion). All of these may scare you in different ways if you let them. The good speaker might get you all depressed for example, and the poorer ones might remind you of your own inadequacies.
Just relax and enjoy being in a meeting with people who are actually doing something positive about overcoming public speaking anxiety. Show everyone the respect they deserve and just see if there are people in the group you think you'd enjoy hanging out with.
If not, that's cool. You want to be around people that make you feel good. Just go to another Club Meeting in your area until you find them.
Then you join. You can go to three meetings as a guest but after that it's time to either walk or get your credit card out and join. The fee's reasonable and a lot of people get their boss to pay. Worth a go if you can swing it (read my section on persuasive speech before you approach them:)
Then you participate. If you're serious about overcoming public speaking anxiety, the idea is to attend regularly and not to pull out at the last minute. If you're not prepared to do these two things, then don't join. You'll just annoy whoever's putting together the roster.
You'll do the various jobs in each meeting, starting with the easy ones like timekeeper. You'll get to speak briefly in the course of every job, no matter what it is(the timekeeper gives a report for example on how long each speaker took). Within a few meetings you'll give your Icebreaker speech and you're away.
Then you learn. You work through 2 manuals. One has 10 speeches in it, which you do over the course of a year or two (or 5 if you like). They each develop different speaking skills.
The other manual has leadership tasks. You simply do allocated jobs at your regular meetings and get a task ticked off.
That's pretty much it. There are leadership roles you can get into which help to run and grow your Club while educating you even more. You can also enter speaking competitions and attend conventions and other training events outside of your Club meetings.
These extras are, however, just that ... extras. Your regular Club meetings are the real reason to join Toastmasters.
Is It Worth Joining?
I've left the unanswerable question until last! I have no idea how you make decisions about what's worth your time at this tage in your life, so instead I'll just tell you what I like about it.
Understanding. Each time you speak is a chance to deepen your understanding of public speaking. It isn't that hard to gain more insight than 99% of the population this way. I personally think that it's the last 1% that's by far the most rewarding and enjoyable. A wise person once said that it's what you learn after you know everything that counts.
Practice. It's the only reason Toastmasters is still around after all these years. It keeps doing what it says on the packet. You get the chance to learn by practicing.
Love. As long as you stay awake as you go about your Toastmasters business, I think you will come to love public speaking. By that I mean be alert to the little stories that can creep into the mind. "I can't do this" or "I'll never get over my nerves" or "Who am I to think I could be a good speaker" or "It's just not me" etc, etc, etc ... Just watch any of these that show up, laugh at them and let them go. By participating in Toastmasters you have a shot at overcoming public speaking anxiety and actually loving public speaking instead of fearing it. In my view that's a good enough reason to get going right now!
---
Return from Overcoming Public Speaking Anxiety to the Fear Of Public Speaking Home Page

Return from Overcoming Public Speaking Anxiety to Fear Of Public Speaking
---